DirtyClean 2021 season we hope will start at the end of March. Various improvements over 2020 with more sleeping and event capacity, better segment markings and other tweaks. Season calendar announced in January 2021.
Described as the regions toughest 1 day challenges!
Cycle socially as a group, cycle competitively on the timed safer segments, rest and chat at the feed stops!
---
The Dirty…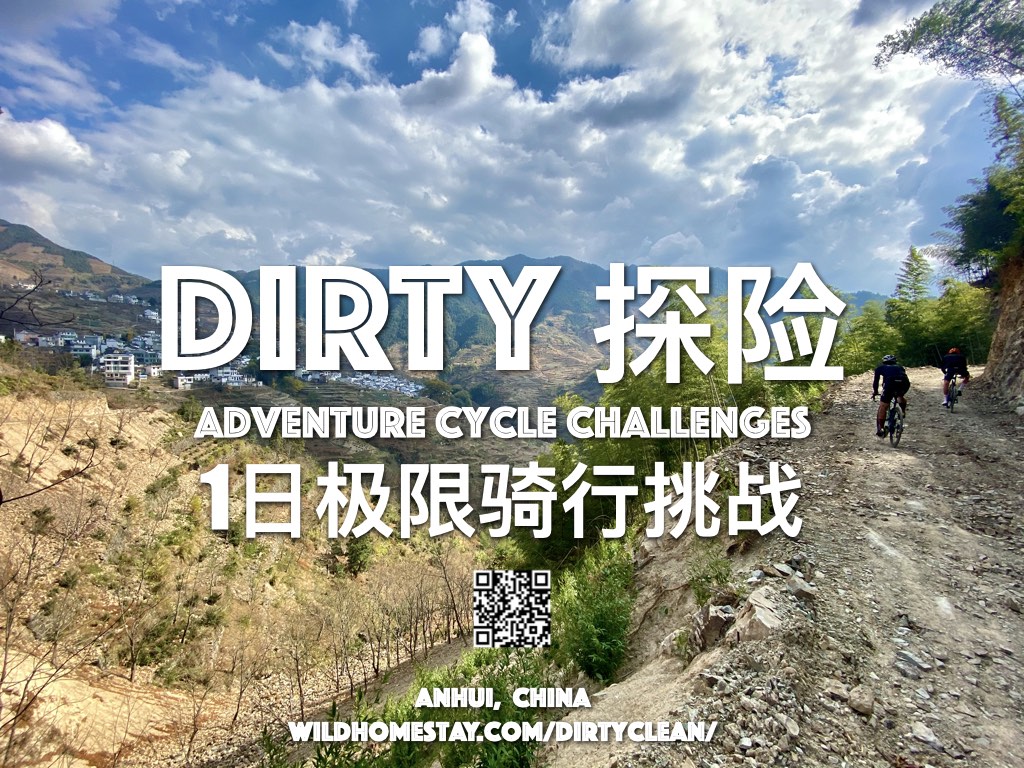 Adventure Cycling for gravel, MTB or CX bikes. 120 to 200km with over 2000m of climbing. Mud, Sand, Gravel, Water, Stone, Concrete & Tarmac. Any Bike – 32c +
#1: The Big Dirty. March. 160km, 3000m
#2: Sauna Slate. June, 125km, 2700m
#3: Forzen Black Cork. November, 125km, 2600m

---
The Clean…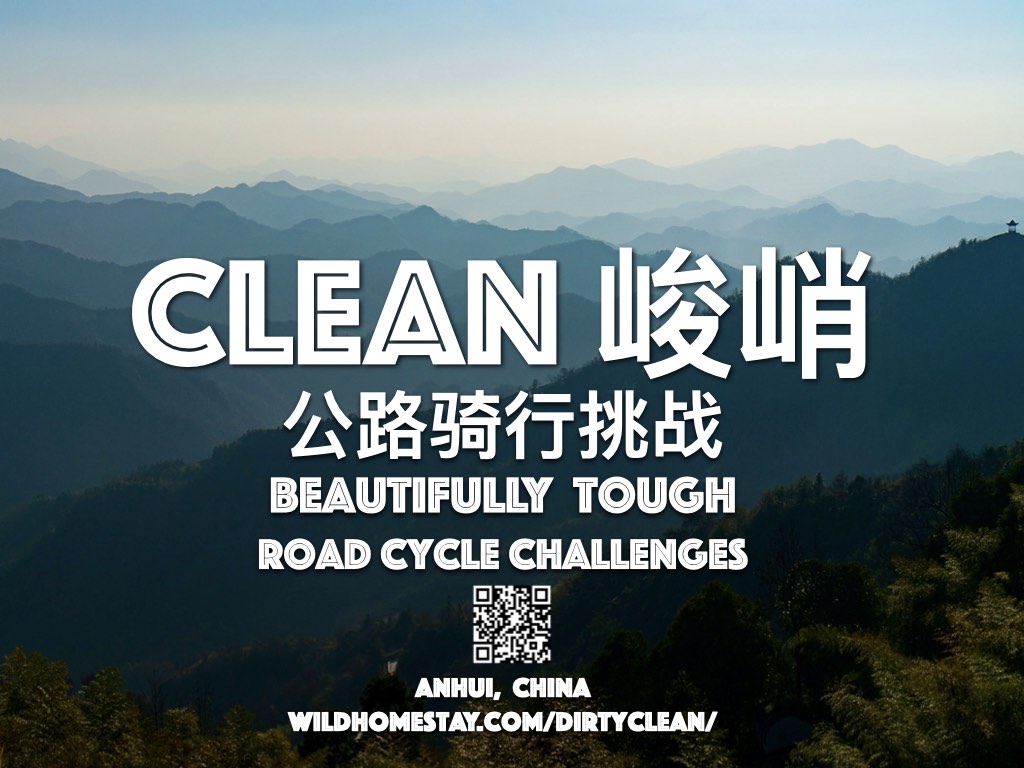 Beautifully tough road cycling challenges. 120 to 200km with over 2000m of climbing. Concrete & Tarmac. Road Bikes – 25c +
#1: Beast of the East. April. 150km, 2700m
#2: Northern Delights. August, 185km, 2800m
#3: Something Sharp. October, 160km, 3000m

---
Easy Bullet Train & Bus Ride!
Bullet trains 1h to Hangzhou and 2h20m to Shanghai. 4h30m drive to Shanghai & 2h from Hangzhou.
The events are held around wildhomestay in Sanyang, Anhui near the Zhejiang boarder. The bullet train station is 7km away, a motorway exit is 5km away connecting Shanghai, Hangzhou and Huangshan areas and Huangshan Airport (1h), Hangzhou Airport (2h) or Hongchao offers easy air connections.
---
Tough, Well Fueled & Supported!
These events are tough! A mid to advanced level of fitness and experience is required to finish them. Not finishing the entire route is fine and we have special prizes even for people that DNF! Detailed GPS tracks are given, drink and food vans provided, a bunch of support people to help out and some finishers prizes for all.

---
Not just for cycling!
Visiting us is a real eye-opener for first-time visitors to China and a real and immersive "China Experience". Get the "Urban" experience in Shanghai and/or Hangzhou and then come to us for an easily accessible and authentic "Rural & Outdoor" China experience.
We will also be arranging some children and family activities for those non-riders/ families that join us.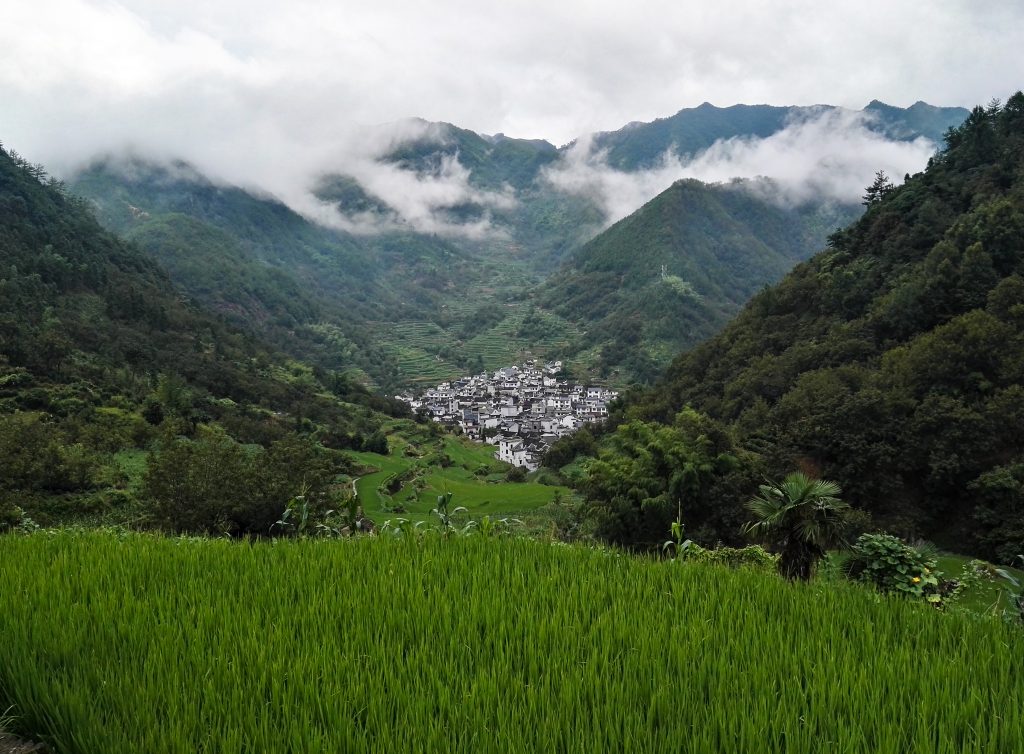 We will restrict sign up to less than 100 people per event. Please book event entry and/or room-food-bus packages. Assume between 298 RMB (50 USD) for event entry and 900 rmb (150 USD) for the weekend package. Therefore somewhere between 1100 and 1500 RMB a person for a great weekend. First come first serve basis. Our rooms will get booked quickly and we can help to arrange alternative accommodation.
---
Gallery & Race Recap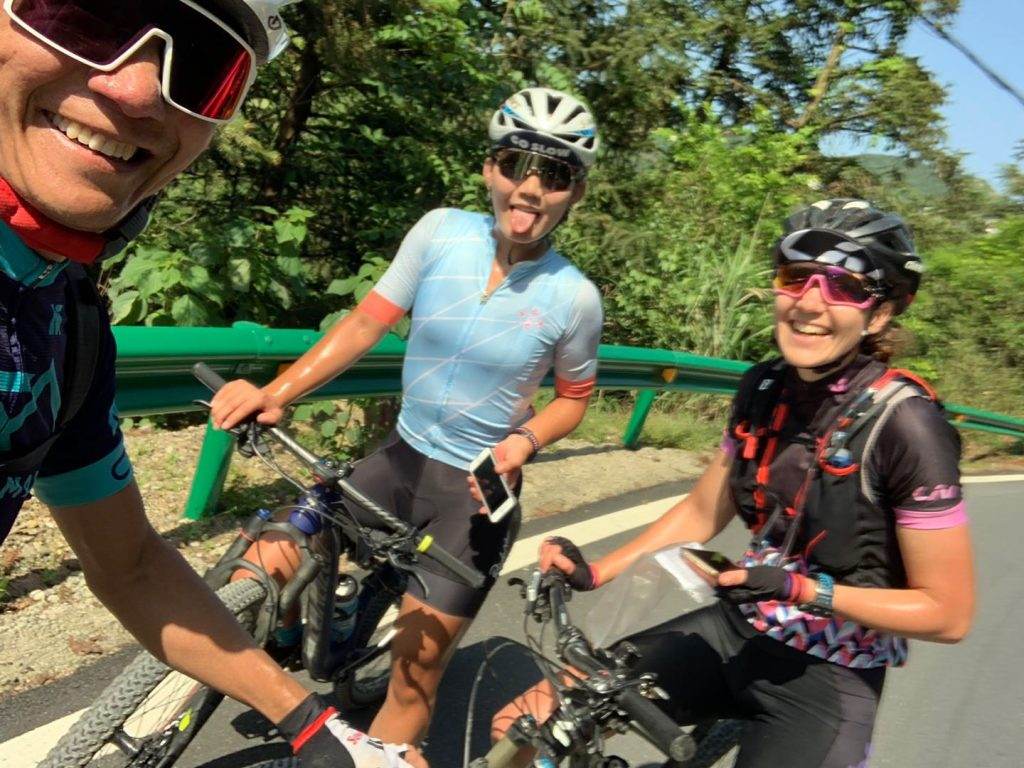 ---
Adventure Riding