Please go to the route page. There are four ways to use digital maps and routes that we provide
A. Our Wild Web App. No need to download anything but there are some compatibility issues with some Android phones in China.
B. Komoot. See the Komoot links on the route pages. Register a free Komoot account on your phone and search for friends "Wildhomestay" to see and save selected routes to follow.
D. Strava. Some routes we have uploaded on Strava.
D. GPX. The GPX files are on our route web pages and also available through Komoot / Strava etc. Download them to your portable device such as Garmin / Wahoo / Phone GPS App etc.

A. Wild Web App
This should work fine on most mobile phones. We have seen some issues on Android phones running Google Chrome. Try another browswer such as Firefox. Please open the route web pages outside of wechat. Bring a extra battery bank for longer trip
To use our digital map.
Navigate to the trip / route page you want to follow. Give it a little time to load the map. The below map should show up.
Click the full screen button on the top left top.
Click the location button on the top right. A warning asking to use your phones GPS will pop up. Accept. On some Android phonese there have been issues finding your location.
It will show a blue dot which marks your location. See your location in relation to the route.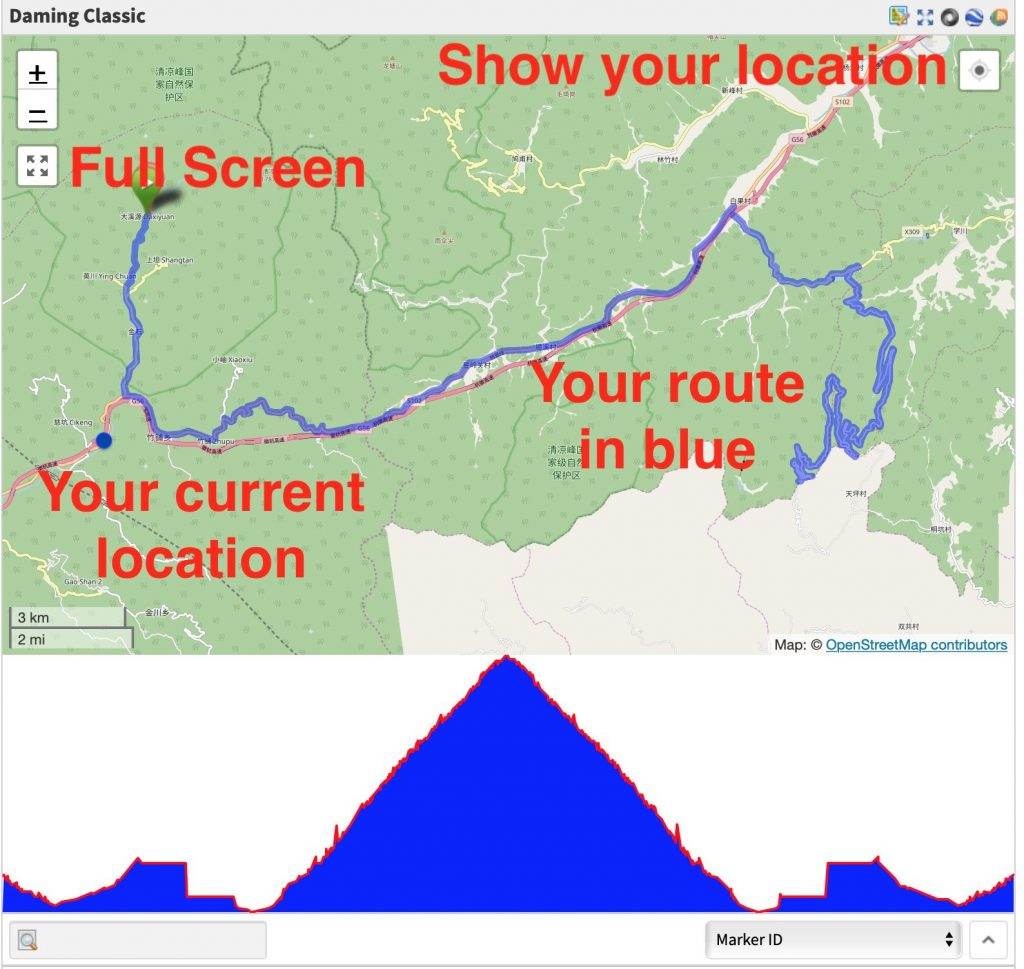 B. Komoot
Komoot is a tail map / route app for your phone or GPS device. We suggest:
Download app to phone.
Sign up for an account. Free.
Go to Profile > Find Friends > Search "Wildhomestay". Add wildhomestay as a friend.
Click Following > Wildhomestay > Tours > Planned. You will see all the routes we have uploaded. Select a route and click "Save" or "Start Navigation" .
Alternatively, its easy to send the route from our web page to your mobile phone or account.
Register for a free account. No need to buy the subscription as it does not benefit you in China.
Download app to your phone and sign in.
On our routes web page look for the Komoot area and link > Send to phone. Click it and it will send the route to your account.
Open the Komoot app and click Tours. You will see our route there and you can follow it.
C. Strava
Look for the Strava Route Links and follow them on your Strava app or compatible device.
D. GPS Devices
You can download the GPX file to your Garmin, Wahoo or GPS device to use offline. Look for the GPX download link on the route pages or click the blue route, a popup will open and you will see a download link for the gpx file.
GPS Phone Apps
For Hiking we suggest OSMand (free) and for Cycling Strava or Komoot for both.
Strava: The Strava is widely used by cyclists and runners. We use it a social tool as well as for some fun competion in the form of Segments KOM & QOMs. Its easy to use and follow routes on. A great app.
XingZhe: The Chinese Strava and they even have their own cheap GPS devices. Something we need to learn more about. More Info
RidewithGPS: great for making routes online and good phone apps. For the serious rider otherwise use Strava.
Wikiloc: great program but tied to Google which does not help in China.
ViewRanger: a Swiss army knife of hiking gps apps
WorkOutDoors: great Apple Watch integration.
OSMand: open source maps (what we use) and open source app.
How to use OSMand
1. Install App & Map
While on wifi download the app from the above link, install and use. The free version allows you to download 3 offline maps. We suggest you download Anhui and use the offline map while outside. To do so:
Click the 3 line button (menu) in bottom left corner.
Maps & Resources.
Worldwide > Asia > China Anhui Province.
2. Change Base Map
While using we suggest you use the OSM Map which shows the location of our homes etc and the Bing Earth (Microsoft Satellite Images). To switch to these maps:
Click the globe in the top left corner.
Map Type
Either OsmAnd (offline) or Bing Earth (Microsoft)
You will see the base map change.
3. Use
Go to any of the route pages on this site on your phone. Click the "Download GPX" file on your phone. The GPX will download and ask you what app to open in, select OsmAnd. Alternativley open gpx file by "Share" or  "Copy To" and select OsmAnd
Open OsmAnd, if not already opened. Click the 3 line button (menu) in bottom left corner.
My Places
Trips > All Trips
The GPX file should show up in All Trips. Click it and select "show on map". The route will now show up on the base map.
Go back to the main map screen. Press the round cross hairs button on bottom right of screen (next to the zoom buttons). This will activate your phones GPS and a dot will show you your location.
Options
If you click the globe in the top left, POI Overlays and select everything you will see our cafe / houses pop up on the map. 
If you want you can record your trip, waypoints etc.