Clean #1 2021-04-10 The Beast of the East 东部魔鬼线
¥268.00 – ¥468.00
2021 Clean Challenge #1 Intro: This challenge loops around the south of our area taking in the fantastic Qianniugang / Daming Mountain South Accent. The Accent is 1100m + making it one of the longest uninterrupted climbs in the region. It winds its way along streams, through bamboo forests, tea plantation, rice terraces, the odd village and up to the top of the satellite station on the top of the mountain. Its described as "a world class truly epic climb" and we concur :)!
Challenge entry at bottom of page
10th April 2021, 8am Wildhomestay Cafe.
A lovely little route on good roads suitable for 25c + tires.
168km – 3000m
Local insurance, basic water and simple snacks along the way, a support van for a small bag. Otherwise self-supported.
2020公路骑行挑战 #1
· 2021年4月10日
· 东部魔鬼线 – 路况良好的有趣小径,适合25c+轮胎
· 168km,累计爬升3000m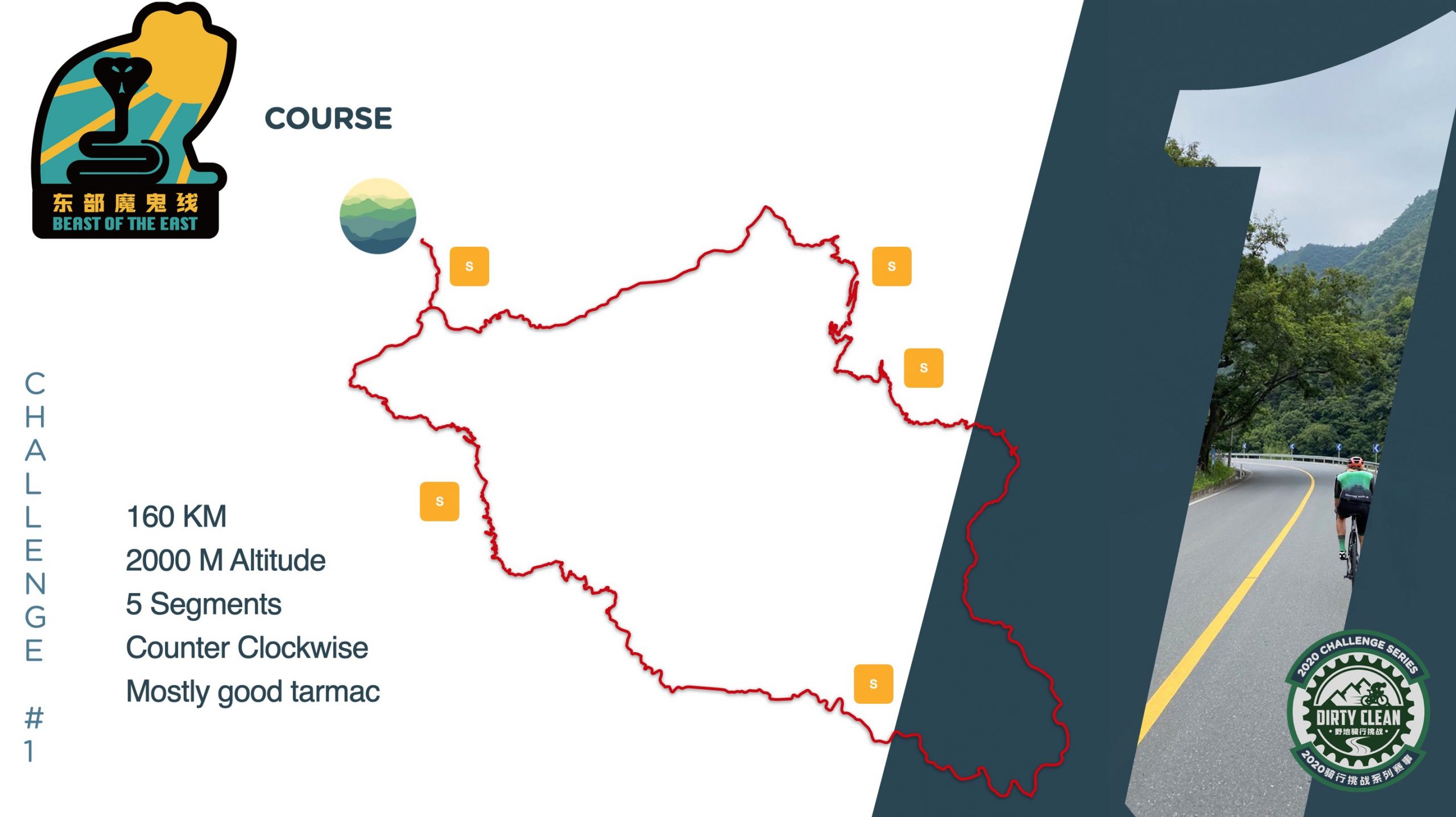 GPX: Clean #1 – Beast of the East
Segments
·        Warming up
https://www.strava.com/segments/19025407?filter=overall
A gentle mid-length climb to get the legs warmed up. Note that vans will not park at the finish this time! Ride on through the village until you get to a large carpark on the left.
370m elevation over 8.6Km. 4% average gradient.
·        Curly mullet
https://www.strava.com/segments/24224594?filter=overall
Relaxed little climb that gets progressively less relaxed. Finishes just before the start of the next segment, so be sure to take a breather.
175m elevation gain over 5.2km. 3.4% average gradient.
·        里畈 to top
https://www.strava.com/segments/27645802?filter=overall
Hors categorie-type fun. This is the big one- a long climb through walnut orchards to the very top of "Damingshan".
Just under 1100m elevation gain over 25km. 4.3% average gradient.
·        JR's pain cave
https://www.strava.com/segments/27646068?filter=overall
In case you thought a 25km climb wasn't challenging, we've added a segment within a segment. "JR's pain cave" is a short, sharp climb starting at the end of the last village on the back route up Damingshan and finishing at the junction with the main route.
150m elevation gain over 2km. 7.6% average gradient, 20% max.
·        Noodle stop to Anhui
https://www.strava.com/segments/27646341?filter=overall
From the Damingshan turnoff to the arch at the Zhejiang/Anhui border. Flat enough for drafting and team tactics. Occasionally, anyway.
500m elevation gain over 11.5km. Rolling terrain.
Scoring
This time, scoring will be based purely on points. Points are awarded for each segment, based on finishing time. Points are awarded down to 50th place, and will count towards both the overall ranking on the day, and a series ranking.
This points system is borrowed from the guys at
Segment Cup
, and is designed to reward both the fastest riders and people who compete in more events.
---
Please understand these rides are not professional races but small scale amateur cycling challenges. To maximize social fun and minimize stupid behaviour points are given for various challenging segments. The rest of the day is meant to be spent riding and chatting in groups. Cool refreshments provided on-route along with a few fun awards. Please be realistic, these are not aimed at the beginner and are demanding, in amazing but challenging landscapes. 请知悉以上骑行活动为小型业余骑行挑战活动,并非专业赛事。为了增加乐趣,减少荒唐行为,我们对各种具有挑战性的路段设置分数。除去这些夺分路段,希望大家能聊聊天、骑骑车,友好又愉快。路线沿途我们讲提供解暑饮料和一些有趣的小奖励。不过各位初学者们,清醒一点,路线虽然令人赞不绝口,但骑行要求同样很高,初学者们请谨慎报名。
If we have serious weather or health warnings it will be delayed.
Please see the photo gallery for photos from last years event.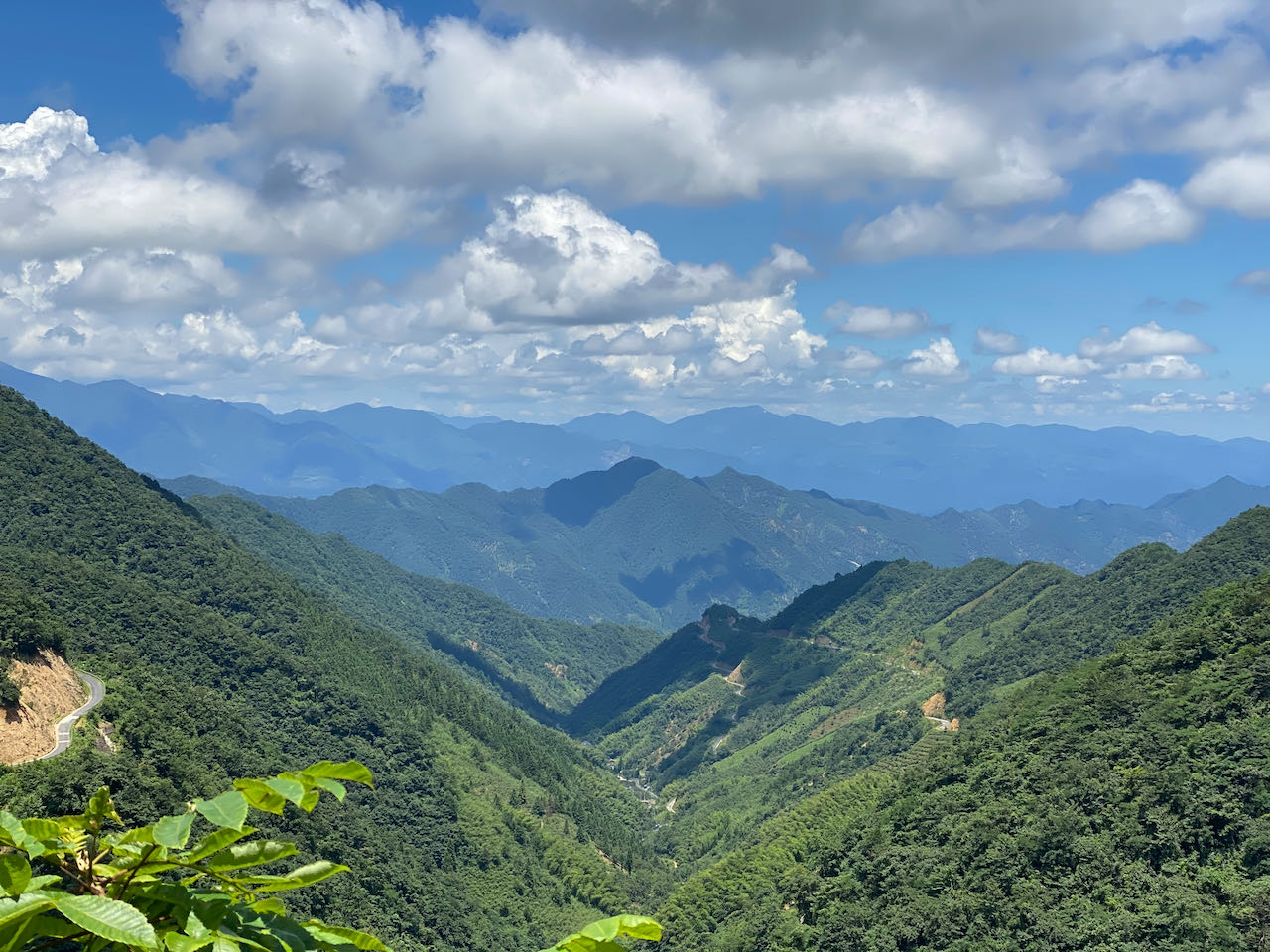 Will we go to the top of the mountain this year.
---
Please read the below waiver and make sure anyone else you also are signing up for also reads it. You will be asked to sign a copy before the event.
参加声明 
1. 我自愿参加2019年4月20日的自行车极限挑战活动及一切相关活动(以下简称"活动"),我确认本人具有参加本骑行活动相应的民事行为能力和民事责任能力,并且已获得监护人的同意;
2. 我确认全面理解并同意遵守组委会及协办机构(以下简称"组委会")所制订的各项规程、规则、规定、要求及采取的措施;
3. 我承诺已通过国家认证的正规医疗机构体检,并结合检查报告进行自我评估,确认自己的身体和精神健康状况符合参加的各项要求,且已为参加本骑行活动做好准备,承诺愿意承担由此可能带来的风险(包括但不限于因本次运动所可能产生的人身意外或伤亡风险);
4. 我原意承担参加此次骑行活动以及参加全过程所发生的人身伤害、局部或永久性伤残、死亡、医疗或住院费用、财产损坏、任何形式的盗窃或财产损失等的全部责任,承诺免除组委会、赞助单位、场地单位及其职员、雇员、代理人的任何经济责任和法律责任,组委会、赞助单位、场地单位及其职员、雇员、代理人对此不承担任何形式的赔偿;
5. 我授权骑行活动组委会及指定媒体无偿使用本人的肖像、姓名、声音等用于主办方的各类不同形式的宣传与推广;
6. 我承诺将向组委会提供身份证件用于核实本人身份及参加资格,保证提交的身份证件和文件资料真实有效,并承担因提供不实信息所产生的全部责任,组委会据此有权拒绝提供参加资格,并不予退返前期支付的报名费用;
7. 我承诺以自己的名义报名参加,不将报名后获得的参加资格及号码布以任何方式转让给他人,并承担因转让参加资格及号码布所出现的全部责任与后果;
8. 我同意在比赛前和比赛期间按照参加要求穿着骑行活动服装,并同意组委会发现该项违规后有权取消本人的参加资格;
9. 我保证在参加过程中服从主办方的所有工作人员的管理和指挥;
10. 我承诺在关门时间未完成比赛、身体不适及赛道出现突发状况时主动退出比赛,并承担因本人坚持比赛所产生的全部责任与后果;
11. 我同意接受组委会在比赛期间提供的现场急救性质的医务治疗,但在医院救治等发生的一切医疗费用由我自理;
12. 我同意组委会以我为被保险人投保了人身意外险,我确认已知悉并同意保险合同的相关内容。
13. 我本人、我的监护人、管理人、法定代理人已认真阅读并全面理解以上内容,且对上述内容予以确认并承担相应的法律责任。(未满18周岁须由法定代理人签署本声明。)
Statement of 2021 DirtyClean Cycling event @sanyang
1. I myself voluntarily enter 2021 Dirty cycling event and all related activities (hereinafter referred to as "the Event"). I hereby confirm that I have the capacity for civil conduct and liability to participate in the Cycling Event, and have obtained consent from my guardian(s);
2. I hereby confirm that I have fully understood and agreed to abide by all regulations, rules, prescripts, requirements stipulated and measures assumed by the Organizing Committee 2021 Dirty Cycling Event(s) (here in after referred to as "the Organizers");
3. I hereby pledge that I have had a physical check-up conducted by a qualified medical institution and then self-evaluated based on its physical check-up report. I confirm that I am physically and mentally fit for the Cycling Event, and I am prepared for participation in the Cycling Event. I pledge that I will assume all possible risks arising from or in connection with participation in the Cycling Event (including but not limited to possible risk of casualty resulted from the Cycling Event);
4. I confirm that I will be solely liable for, and hereby exempt the Organizers from, any and all personal injury, partial or permanent disability, death, medical treatments or hospitalization expenses, property damage, theft or property loss of any form resulted from my participation in the Cycling Event or occurring in the entire duration of my participation in the Cycling Event. The Organizers shall assume no liability of compensation in any form;
5. I hereby grant permission to the Organizers and their designated media to utilize my appearance, name, voice and other personal information without charge for the publicity and promotion;
6. I will provide the Organizers with my ID card/passport and certificate to verify my personal identity and eligibility to participate. I guarantee the ID card/passport and certificate submitted is true and valid. I will be solely liable for any untrue information submitted. In such circumstances the Organizers may refuse to grant eligibility of participation, and the paid entry fee is not refunded;
7. I pledge to enter and compete in my own name. I will not transfer my eligibility of participation and the bib obtained after entry to any other person in any form. I shall be liable for any and all consequences resulted from such transfer;
8. I agree to not deliberately damage, change or mask my bib number before and during the Cycling Event. I will abide by the dressing code. The Organizers reserve the rights to cancel my eligibility of participation if I fail to do so;
9. I agree to obey requirements from Cycling Event staffs during the Cycling Event;
10. I will quit willingly the competition if I do not finish the Cycling Event before cut-off time, become physical discomfort or face any unexpected incident occurring on the track. I am solely liable for any and all consequences if I insist not to quit in such circumstances;
11. I agree to accept the on-site first aid provided by the Organizers during the Cycling Event, and I shall bear the expenses by myself for any medical treatment that occurs in hospital and so on;
12. I accept the personal accident insurance provided by the Organizers, and I confirm that I have understood and accepted the terms and conditions of the insurance policy.
13. The above information has been read attentively and understood fully by myself, my guardian(s), the custodian or the legal representative of the juvenile, and I/the legal representative confirm all the information and take relevant legal liability.
(This statement shall be signed by the legal representative for anyone under 18 years old.)
Room Booking
Please note we have sold out our old rooms for the 10th April Weekend for the Clean Challenge. Our new houses might be up and running, people might cancel and there are now some nice other local nonjiale in the area we can help you book. Please email us on booking@wildhomestay.com if you would like further info, state your contact details and how many rooms / people you are interested to book for and any other requirements. We will get back in touch with you. Thanks, Wildhomestay Team.
4月10日的房间已全部订满。我们的几处新增民宿已在装修,希望到时可以启动。也可以帮你预定周边农家乐。如果还有希望能参加4月10日活动的骑友,请发邮件至booking@wildhomestay.com,将你的联系方式,人数,房间数或其他要求告诉我们,我们会尽力帮你安排。
谢谢,野趣乡居团队
---
Challenge Entry
Additional information
| | |
| --- | --- |
| Package 套餐选择 | Basic 基本套餐, Full 大套餐 |