Wildhomestay and our partners are hosting some small scale, very challenging races for the running, cycling and tri community in 2020. These combine our local landscape, some fun twists and a great weekend out.
Dirty Clean 2020
Dirty & Clean Races are delayed to Autumn. Dates will be provided at a later time but most likely mid-November after the main season's races but before it gets too cold. We will still hold a competitive fun ride weekend at the same dates 24th April 2020 on the same or similar routes to last years races. Email us if you're interested.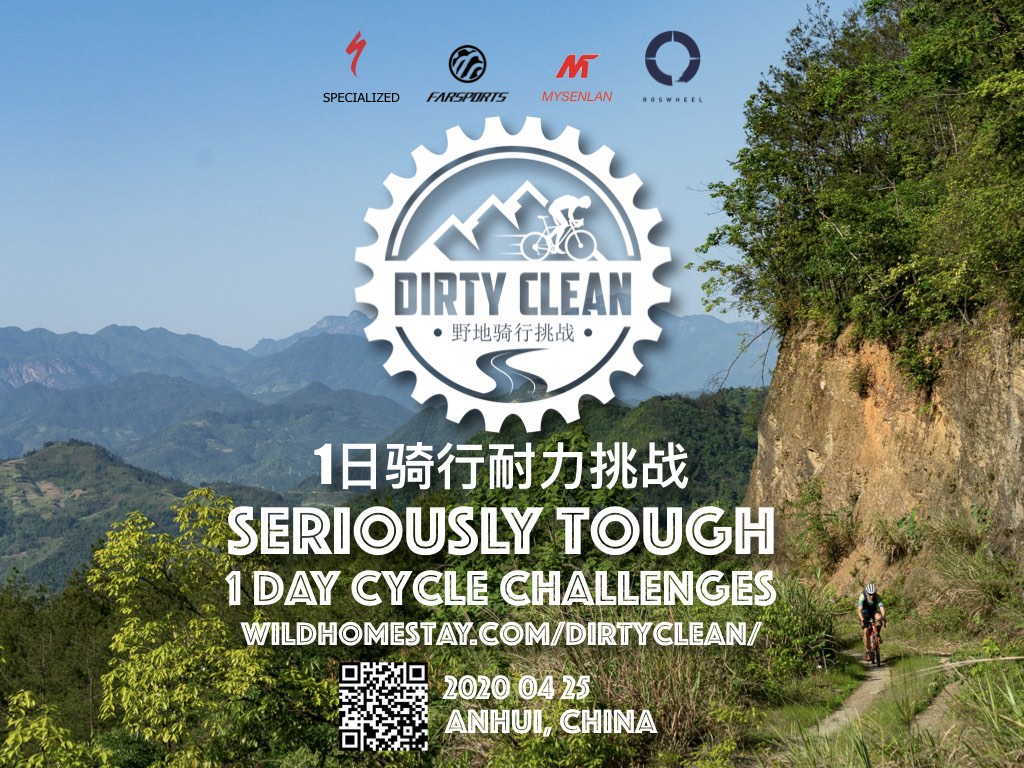 Autumn 2020 – Anhui China – Planned & Described as the toughest 1-day cycling race in China!!!
An easy bullet train ride or flight to a truly unique cycling race in rural China. A Clean road bike 180km route & a Dirty 160km all surface route. Hosted by wildhomestay with support from our partners we're incorporating a weekend of fun and adventure. Tweaks and extras compared to last year but keeping the Dirty to its core roots of being described as the "toughest 1 day race in China" . Further info
---
The Three Courses
16th May 2020 – Anhui China – Road or adventure bike. 3 mountains , 3 segments, 3 meals – 24h
A simple concept. Have a great meal with a great view ontop of a mountain after a great hill climb. Repeat three times. Either a 8h mountain segment ending in a meal or join for all 3 to get the grand 24h prize. Sunset dinner segment in the North, Sunrise breakfast in the South, ending in the scorching sun lunch in the West. Details to follow in December.
---
2020 Charity "Ride For Sharing" Weekend
11th & 12th April 2020 – Anhui China – A weekend of riding and giving for novice and younger riders.
A weekend of adventure to raise money and awareness for a Cambodian and Local orphanage. Organised by kids for kids there will be various adventurous rides which are accessible and fun, but yet a challenge, for younger and less experienced riders.
---
Wildathon
Spring 2020 Trial. TBA – Run Ride Run. A short sharp uphill run, climbing through a forest, jump on the bike, an off-road downhill, a 200m flat section, various ups and downs, then back up, drop the bike and run home. Not easy.