Wildhomestay and our partners are hosting some small scale challenges for the running, cycling and tri community in 2020/21. Dates are a bit of a mess due to the virus but we hope to be hosting these events from summer 2020. Our events combine the local landscape, some fun twists and a great weekend out.
Dirty Clean 2020
The main Dirty & Clean Challenges start again on 1st August 2020. We hope to run these non-profesional competitive fun ride weekends a few times before the end of the year. It's best to join our Strava club to get the latest updates.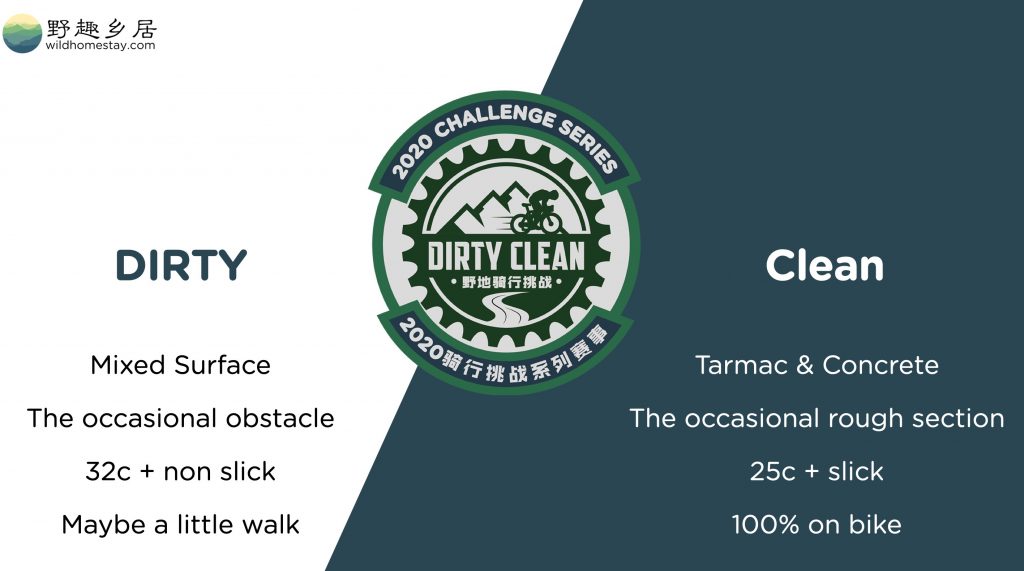 Dirty – Anhui China – Planned & Described as the toughest 1-day cycling challenges in China!!!
An easy bullet train ride or flight to a truly unique cycling challenge in rural China. A Clean road bike route & a Dirty all surface route. Hosted by wildhomestay with support from our partners we're incorporating weekends of fun and adventure. Tweaks and extras compared to last year but keeping the Dirty to its core roots of being described as the "toughest 1 day cycling challenge in China" . Further info
---
The Three Courses
Sometime in 2020 – Anhui China – Road or adventure bike. 3 mountains , 3 segments, 3 meals – 24h
A simple concept. Have a great meal with a great view ontop of a mountain after a great hill climb. Repeat three times. Either a 8h mountain segment ending in a meal or join for all 3 to get the grand 24h prize. Sunset dinner segment in the North, Sunrise breakfast in the South, ending in the scorching sun lunch in the West. Details to follow in December.
---
Wildathon
Autumn 2020 Trial. TBA – Run Ride Run. A short sharp uphill run, climbing through a forest, jump on the bike, an off-road downhill, a 200m flat section, various ups and downs, then back up, drop the bike and run home. Not easy.