Address Contact
Ying Chuan Village, She County, Anhui, P.R. China, Tel: +86-13601855447
Wechat Service: wildhomestay
Wechat Official Account: wildhomestay (Promotions & News)
---
Wildhomestay is an adventure experience company Limited in Shanghai. We run about 15 or so houses located in Yingchuang, Anhui, China providing rural China living and adventure experiences under our Anhui company. This company is partnered with the local government and also our local staff. We are a small group of Chinese and foreigners. Both from out of town and now a larger team from the local village who want to develop a nice escape in the countryside for our families, friends, and guests. Small scale, mid-end, non-touristy, relaxed, activities, fun and adventure. Thanks to the team for making this happen, Ms Zhu, Ms Chang, Justin, Mr Zhen, Ms Cheng, Ms Zhang, Ms Hong, Mr Wu and all the others……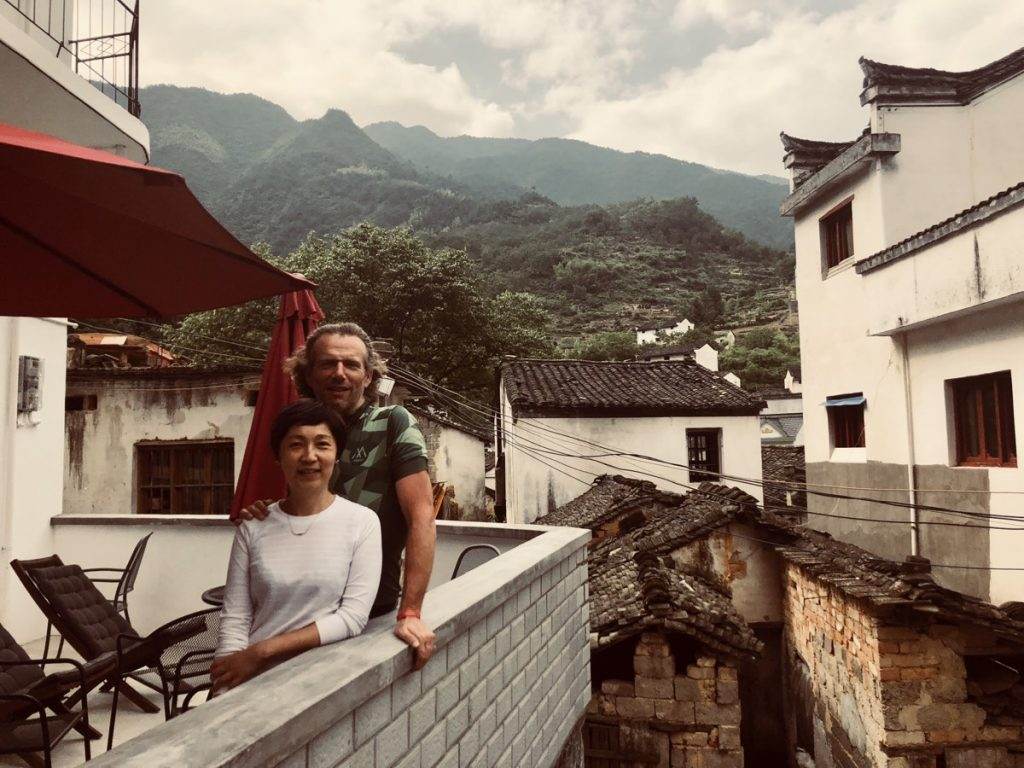 We are all about small-scale human life experiences. Large scale nature. A boundary between rural living and nature. A village of 50 or so houses, densely clustered with mountain streams meandering through it. The village is nearly all pedestrian-only with about 30% traditional-style houses and 70% new style rural houses. The young are working in the cities, the elderly tend the village, crops and young.
The village is experienced from 4 levels; on the ground level through the small alleys and open doors, inside the buildings, at the rooftop/terrace level and from the local mounds and hills & streams. Yingchuan Village is hidden in the hills near the border of Qingliangfeng mountain range. The village has a sleepy laid-back feel with our homes located in the old area on the side of the hill surrounded by bamboo and hickory forests.
Yingchuang is located in the historic Huizhou area. The Eastern Silk Road! and the old trade routes through the mountains! Silks, cured meats, tea, rice, salt, porcelain all produced and taken through the area to the old cities of Hangzhou and Suzhou. People settled these routes through the mountains. Villages sprang up, local commerce and culture flourished.
Our Goals
Travelling in natural and culturally sensitive places we aim to keep our work small scale, interesting, and localized.
We hope to promote diversity through education, experience, employment.
We aim to minimize our impact through not building new buildings and recycling old ones, water filtration, promoting organic crops, alternative energy, and minimizing wastage.
We hope to build environmental awareness through learning material, later on, a guide training centre and visitor educational experiences integrated with activity and adventure. We have already achieved some of this with the school program run through our School partner.
Respects local culture and try and keep it alive through its crafts, activities, food, performance.
Provide direct financial benefits for conservation through nature tours & participation fees, environmental tax. We started this but have put it on hold for a short period of time.
Fairness and equality with legal and fair empowerment
Provides financial benefits and empowerment for local people and us.
A clean, safe and comfortable stay for our visitors.
Great outdoor and cultural activities.
Links
Travel: transport info. Train, Bus, Car, Taxi
Warnings: please please read. You've been warned.
Cancelation Policy: Please see our policy
Group Visits & Events: we are a great place to hold a "alternative" company or private event.
School Visits: we are starting to host weekday educational stays for schools in 2021.
Weather: not always accurate but gives a ok indication.
Reviews: See and please review on Tripadvisor
Maps: our routes, gps, digital maps
---
博客 Blog