There is great hill hiking and running around the area!!! Exploration on foot over mountains, rivers, canyons, little caves, streams, forests and agricultural land.
We divide our hikes and runs into three types:
Guided: Every Saturday AM we offer a guided hike and we can arrange a guide if needed for groups.
Marked: follow a printed map and arrows en route. We have one route around the village done and working on more over the autumn and winter 2023.
Unmarked: follow paths around the area by GPS on your phone (2bulu / strava etc) or on one of our Coros watches.
Guided Hikes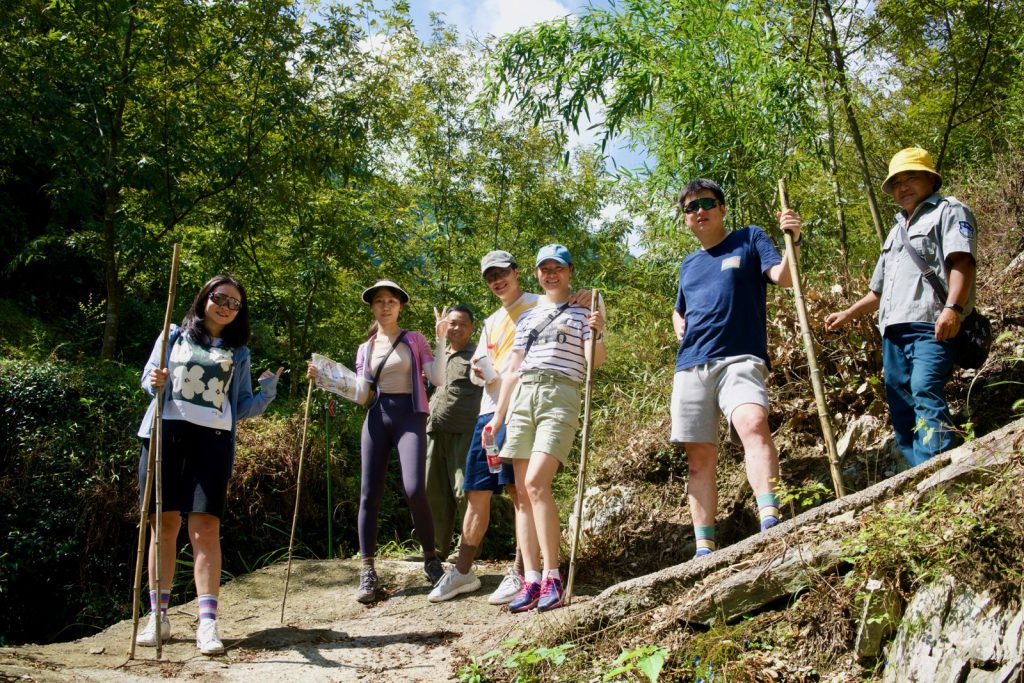 Every Saturday AM we run a guided hike. It's free for our guests. If you would like your own guide for a private group hike let us know a few days before your trip and we can help organize.
---
Marked Trails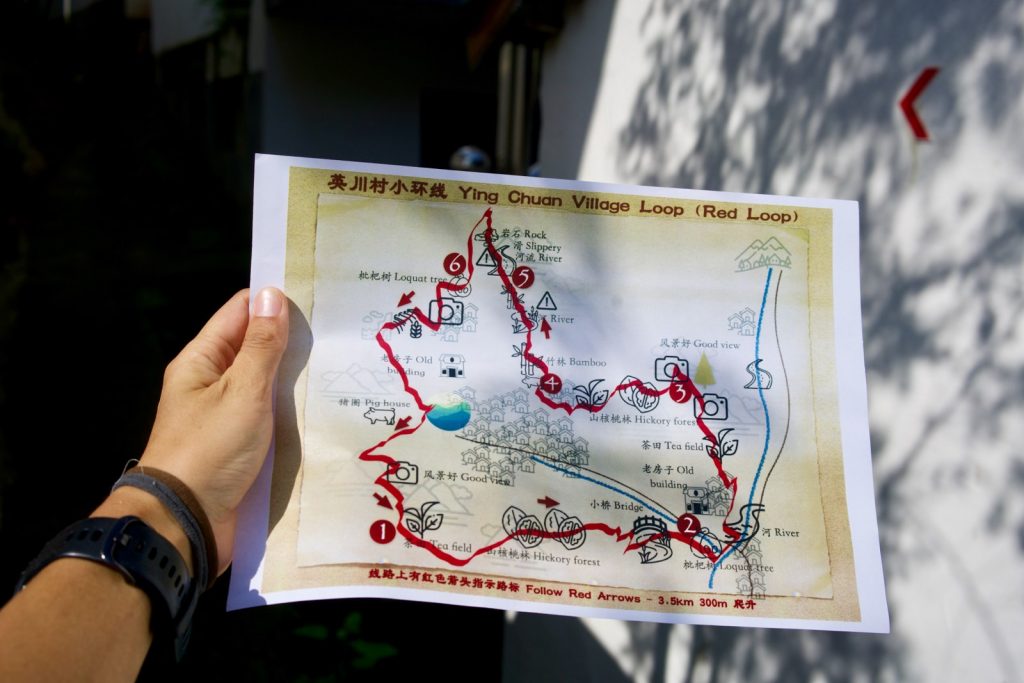 We have a 3km route marked up around the village. Take a picnic and enough water. Follow the RED arrows. Correlate the numbers on the route signs to see where you are on the map. We hope to have various other routes marked up soon.
---
Unmarked Trails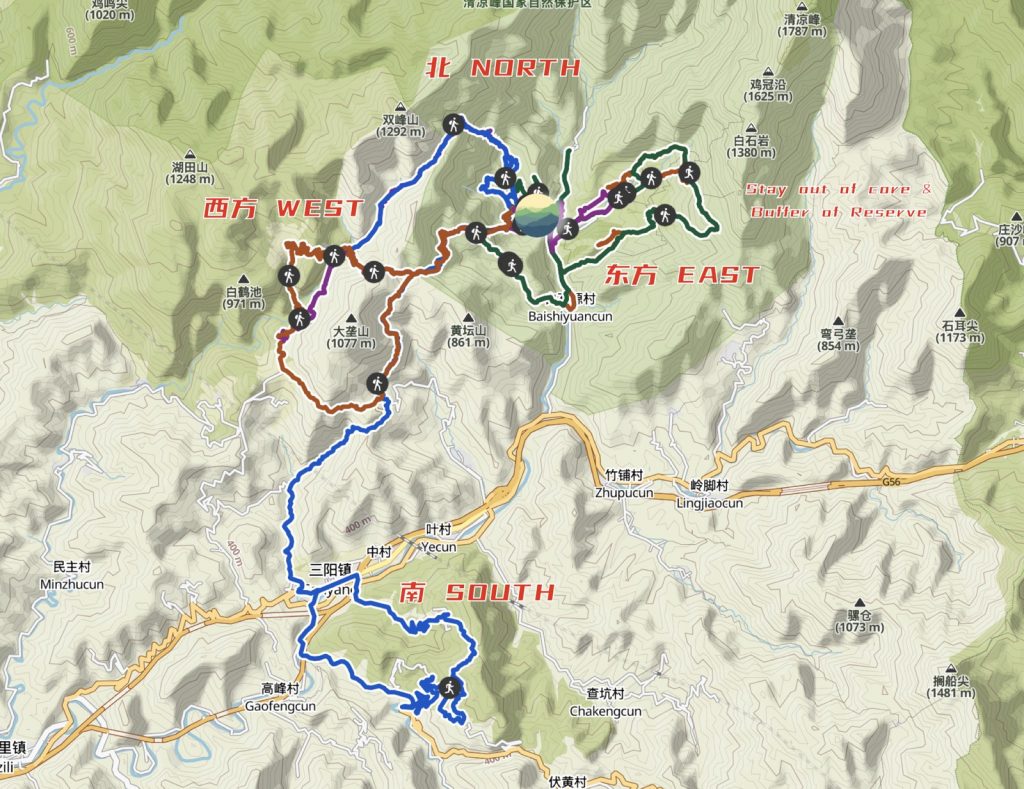 See our Komoot collection of hiking and running routes and links to the individual routes below.
By Area
We divide hiking and trail runs into four areas in relation to our location in Yingchuan Village.
Around the village.
Routes West of us.
Routes to the East of us in the Santang area.
Southern areas of Gaoshan & Ge…..
Other
Other classifications:
[R]Recommended Route = all recommended but suggested for first time visitors to get overview of the area.
Unmarked Around the village
For easy walks take the trails around the village. More challenging and full day walks can be held east around Santang, Xiaoxu, and West towards and around Yenke, Xujiawu and Hutian.
Try the Yingchuan Circle Loops or Tea Forest Route if you are new to the area or have not done them.
Unmarked Western Trails
Western trails mostly link Yingchuan to Yanke Village walking over a big hill. A very nice north trail also takes you up the hill and meets the western trails.
Walk from the cafe up to the West, past the tea trail. Great views over to Qingliangfeng are hand and then walk up through forests and down to Xujiawu. Want even more KM's? Then hike further West over to Yunke, organize a picnic and van pick up from us.
Unmarked Eastern Trails
The eastern trails, up and around Shantang are very nice. There are many routes around the base of Qingliangfeng. Many parts of Qingliangfeng are in the nature reserve buffer and core zone so please stay out of those.
Easy Shantang: 5 km+. [R] A nice walk up the road to Shantang and back. Easy and possible extensions. Can also get a van up there and walk down if you want something even more relaxed.
Large Shangtang Loop: 10km+ [R] a very nice longer walk up and around Shangtang.
The Big Shangtang Loop: 13km [R] a East & West fusion!
Unmarked Southern Trails
There are lots of trails to the south of us you can drive or cycle to. Well worth the visit.
Gaoshan Village & Beyond: drive or cycle there and wonder around the hills. A nice old village in the hills with some good trails.
Gechuan Peak: further south than Gaoshan. Another big mountain and climb. Very nice. Need to explore this area more.
Little Gorge Walk: and most sections of the 75km Yepao run is great.
There is a lot to explore going south towards Qiandao Lake. The Daming to the South East. Contact us for more info.
Other Unmarked Walks in the area
There are hills and trails everywhere. You can also grab a van to the famous & more tourist orientated trails of Jiangshan Canyon, Daming Mountain, Huangshan Mountain, Fuling Mountain and Qiandao Lake for some great walks.
Also just walking through Sanyang and checking out people's homes and shops can be kind of fun. Visit the old town, try some local food and either walk back up the Yepao Sanyang trail or have us pick you up. Sanyang Old Street.
---
Other Info
Yepao Wild Run Challenges
Try out our YePao – Wild Run Challenges. They can also be walked or hiked.
Trail Management
Check out our info on how the locals, guests and ourselves are trying to help manage the trails.
Warnings!!!!!!
Please read even if you are an experienced runner or hiker!!!
Recap & Gallery
A few of the hiking groups and runs we've had at the homestay:
Pictures of hikes and runs over the years!