乡野徒步 We divide hiking and trail runs into three areas in relation to our location in Yingchuan Village.
1. Around the village.
2. Western Hikes around Hutian Shan, Yanke etc
3. Eastern Hikes in the Santang area.
East and West routes can be incorporated for longer adventures. We categorize hikes into colours based on difficulty. Borrow a Suunto watch preloaded with the routes or Learn how to use our digital route files.
Route Levels
Green = some hill, easy, not too long.
Blue = might be long or a bit more technical.
Red = quite hard, technical and long.
Black = very hard, technical and long.

[R]

Recommended Route = all recommended but suggusted for first time visitors to get overview of the area.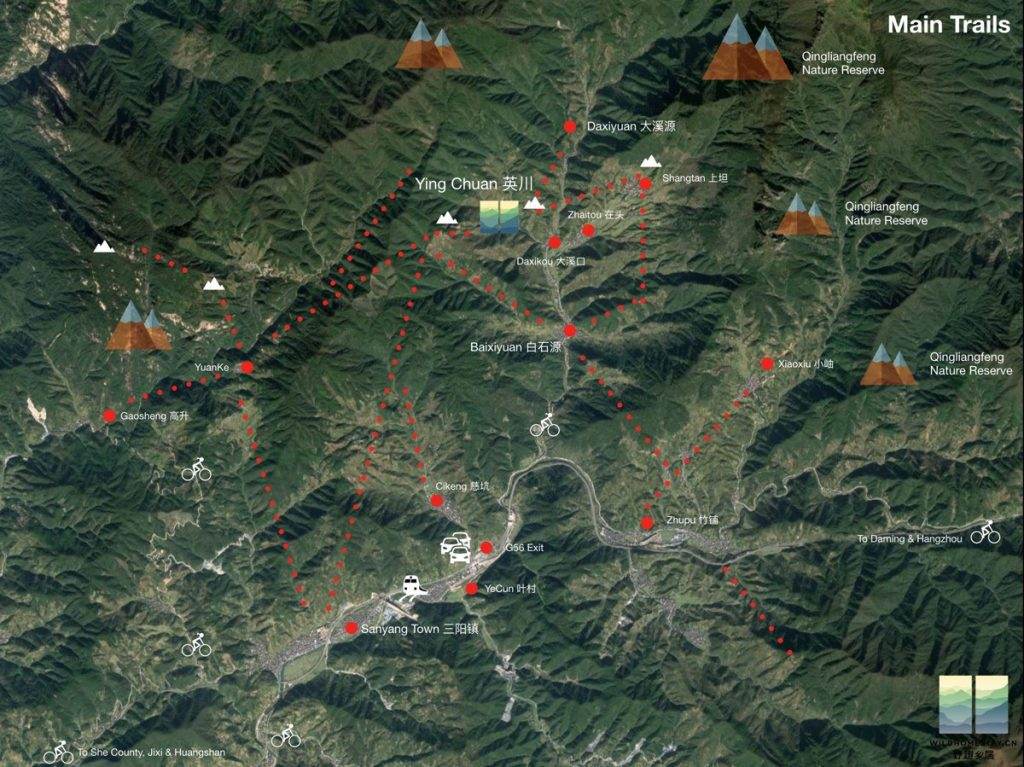 Around the village
For easy walks take the trails around the village. More challenging and full day walks can be hand east around Santang and Xiaoxu and West towards and around Yenke, Xujiawu and Hutian.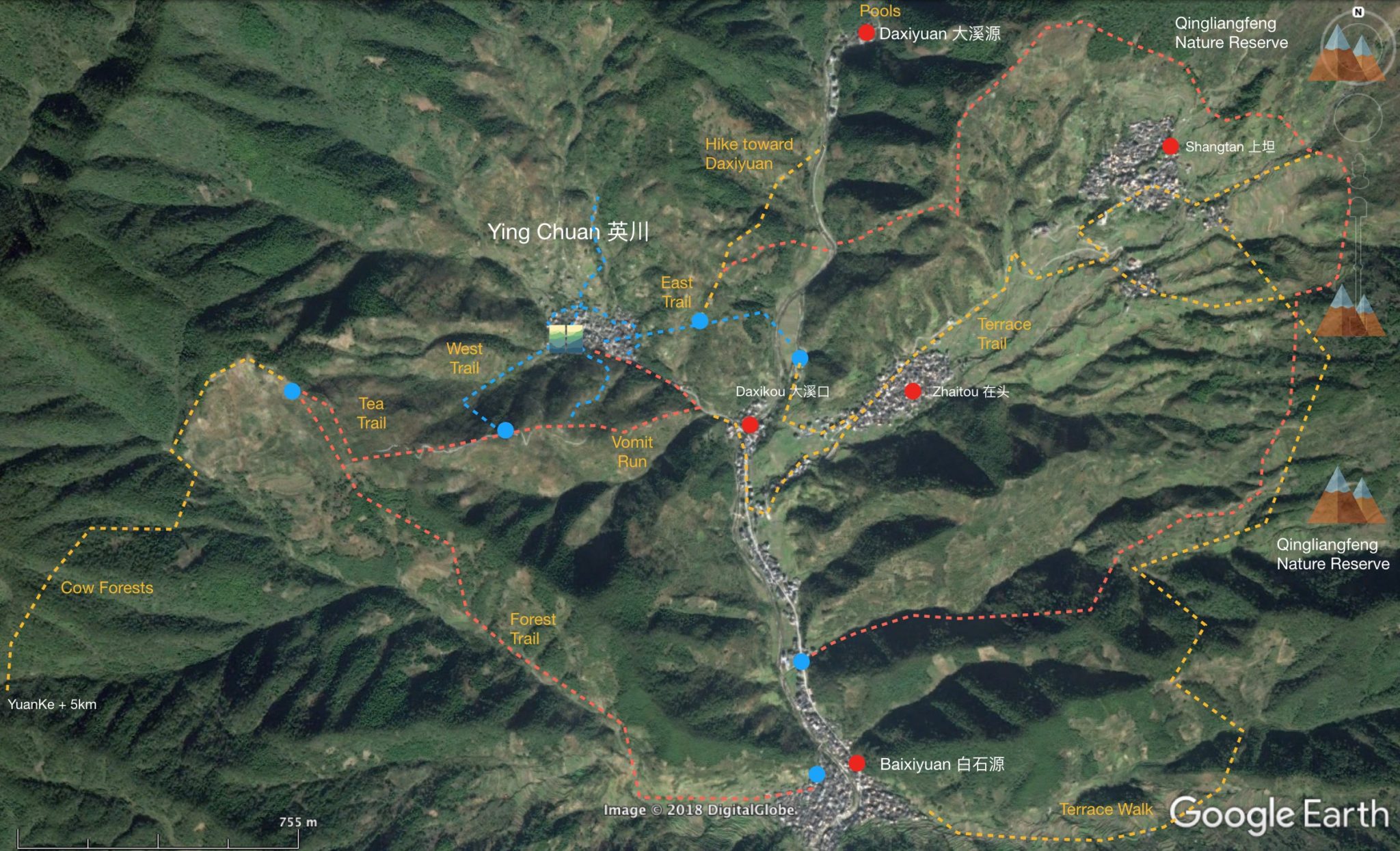 Western Trails
To the West walk up the concrete path from the cafe, walk up the west trail (past the play area) to the tea trail. Great views over to Qingliangfeng. Then circle down the vomit run or keep going west add a few more KM's and take the forest trail back. Want even more KM's? Then hike further west over to Yuanke, orgainze a picnic and van pickup from us. Alternatvily rent our bikes and pick them up from the western hills and cycle down back to us through hidden villages, streams, and forests. There is a whole bunch of exploring for us in the western hills and we are trying to link up the famous northern trails.
---
Eastern Trails
An alternative / next day is to walk over the east trail, down and then up to Shantang. There are many routes around the base of Qingliangfeng. Many parts of Qingliangfeng are in the nature reserve so please be careful where you go.
Check out our Yepao eastern 10km triail as well.
---
Other Walks In Area
Also grab a van and head to Daming, Huangshan, or Fuling Mountain South of Sanyang.
Also just walking through Sanyang and checking out peoples homes and shops can be kind of fun. Visit the old town, try some local food and either walk back up the Yepao Sanyang trail or have us pick you up.
Sanyang Old Street
.
---
Try out our YeoPao – Wild Run Challanges. They can also be walked or hiked.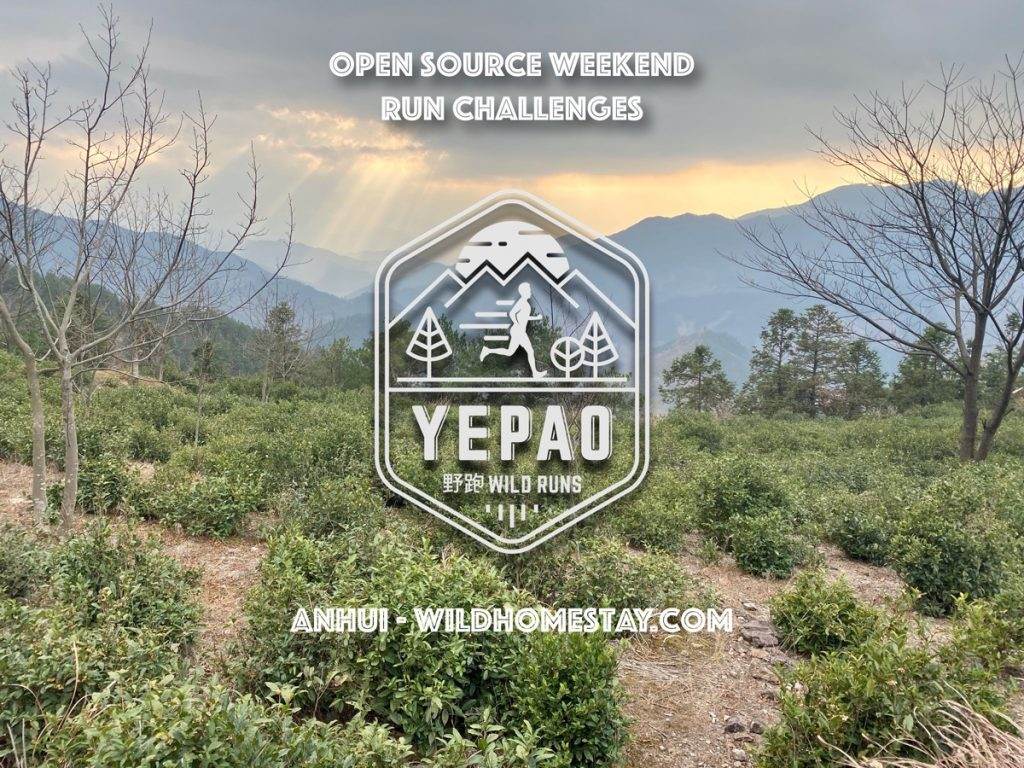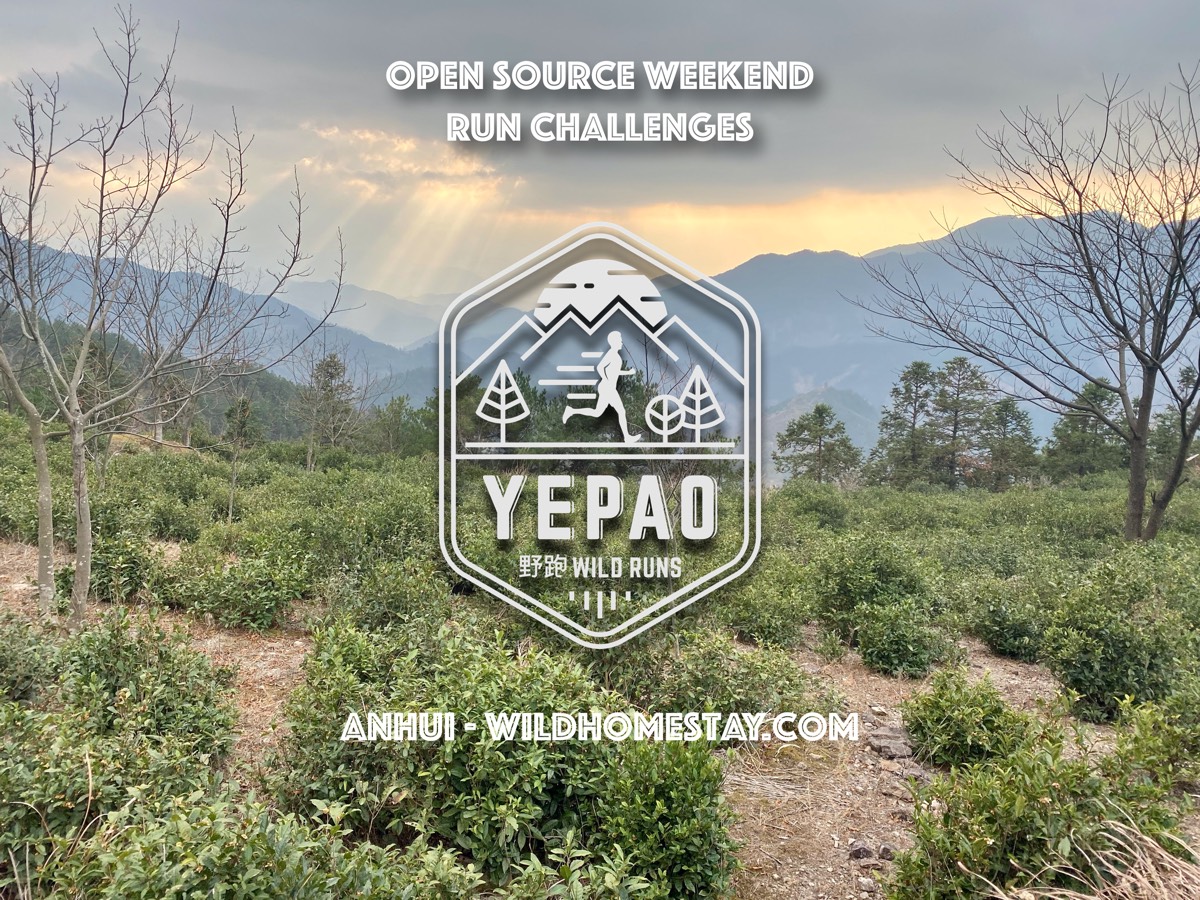 Trail Management
Check out our info on how the locals, guests and ourselves are trying to help manage the trails.
Gallery
Warning Nature Reserve – keep out of core and buffer!!!
Warning Dangers – there are snakes and rocks/mountains you can fall off.
Warning Hydration – bring enough drinking water or filter system for your hikes and runs.
Strava Fun Run Segments
for those that use Strava we have posted a few run segments. please feel free to make some more and send them to us.
Old Vomit: Walk out south of village for 100m or so. Go over a little bridge and start the vomit run up to the concrete water tank. Run down the back route to the village ending at the cafe. 1.2km up. 2.4 up and down. We need to make a new segment for the up and down.
New Vomit 1k: start by the cafe and run up the hill following the concrete path.
.
Tea Forest: run up the Vomit and down the Forest. Concrete Path / Trail.
Dashi Dash: run up to Daxiyuan.  Road & Gravel.
Santang Elevator: run from the gravel road to the top of Santang. Then from there can follow the path around.
Yenke Black Hills: End of Vomit to the black hills.
Ciken Circles: Ciken up, around and back down to Sanyang.
Daming Up: cycle or drive to Daming, then: 20km, 5% all up, 1000m, Road.