Please see maps and directions on Apple Maps Location | Baidu Maps Location | Google Maps Location | Gaode
Zoom out to see train stations, airports, petrol and charger stations and parking locations.
Driving
Driving to the homestay is super easy! We are 7km from the Sanyang exit of the G56 motorway and 4km from the provincial road S324. Search Wildhomestay or Yingchuan and we should come up on most of the driving apps. Wechat us and we can send you the location pin if need be. ITS VERY EASY TO MISS THE SANYANG EXIT ON THE G56 MOTORWAY. Keep an eye out for it and go slow when you are getting close or you will miss it and have an extra hour drive!!! The S324 links us to Hangzhou in the East and Huangshan in the west. Please note most local roads are narrow and driving in the area is not really for beginners due to the windy hill roads.
Train
Sanyang, has a high-speed bullet train station 7km away from the homestay. Due to our area not being on the tourist map, direct trains are infrequent. Check ctrip / trip & the train app. If you cannot find a direct route then try one which transits in Hangzhou or goes to She Country, Jixi or Tunxi and go backwards from there or we can pick you up or drop you off from there.
Bus to Here & Away
We can organize private buses from 17 seats up to 37 seats from Shanghai for you and your group. Please contact us for more details. Alternatively, there is a public bus station in Sanyang which has buses to/from Hangzhou, Shanghai, Huangshan, She County, Qiandao Lake etc.
Flights
Huangshan airport 1 hour away by car is our closest airport. Hangzhou airport is about 2.5h away. We can help pick up / drop off if needed. Flying into Shanghai Hongqiao Hub and then jumping on a direct train to us is also not too hard if you can make times work.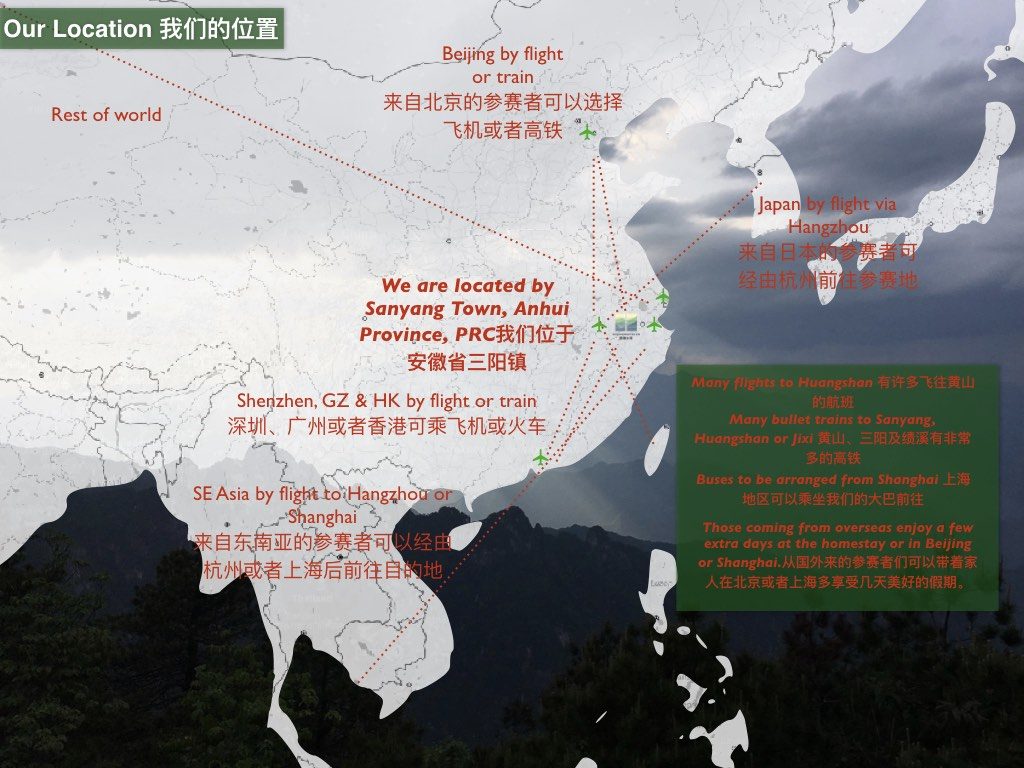 Cycling
Yes, some people have actually cycled from Shanghai and Hangzhou here in less than a day! We suggest you don't, but we do suggest you check out the great routes around the area. Cycling from Huangshan, Jixi, Shexian or Qiandao Lake train stations to here is very nice and recommended.
Local Parking
Parking can get tight, especially during holiday times. See the local map and the most sensible parking is at the entrance to the village in Parking 1
Electric Car Charging
Check out this blog on where to charge your electric car in the village or in Sanyang town.