Parking
Please try to park at the front of the village in P1. There might be a space in P2 or P3. Alternatively ask the locals while there.
P1 = Parking 1

P2 = Parking 2

P3 = Parking 3

M = Mosaic House

B = Big House

Y = Yoga House

S = Stream House

C = Wildcafe

B = Wildcycles

K1 = Playhouse

K2 = Playground

L1 = Activity Fields
---
Train
Our local bullet train station is called Sanyang 三阳. It is 7km away from us which takes 15 minutes to drive.
Tickets sell out early especially during holiday or weekend periods. You can book on Ctrip or directly through the railways website. Search for 三阳.
If you cannot find tickets to Sanyang due to them being sold out or not fitting your schedule then:
A. Look for trains that stop at Sanyang and try to buy a ticket for She County, Tunxi or Jixi North which are further on than Sanyang. Get off at Sanyang. They allocate a certain number of seats to different staitions.
B. Go to She County, Tunxi or Jixi North and get a taxi to us. These stations are all about an hours taxi ride away which costs 200-300 RMB.
C. Get a ticket past us to Huangshan or She County and then a ticket from there back to Sanyang (7 to 10 minutes).
Generally our guests have not had problem getting bikes on bullet trains if they are packed in bike bags.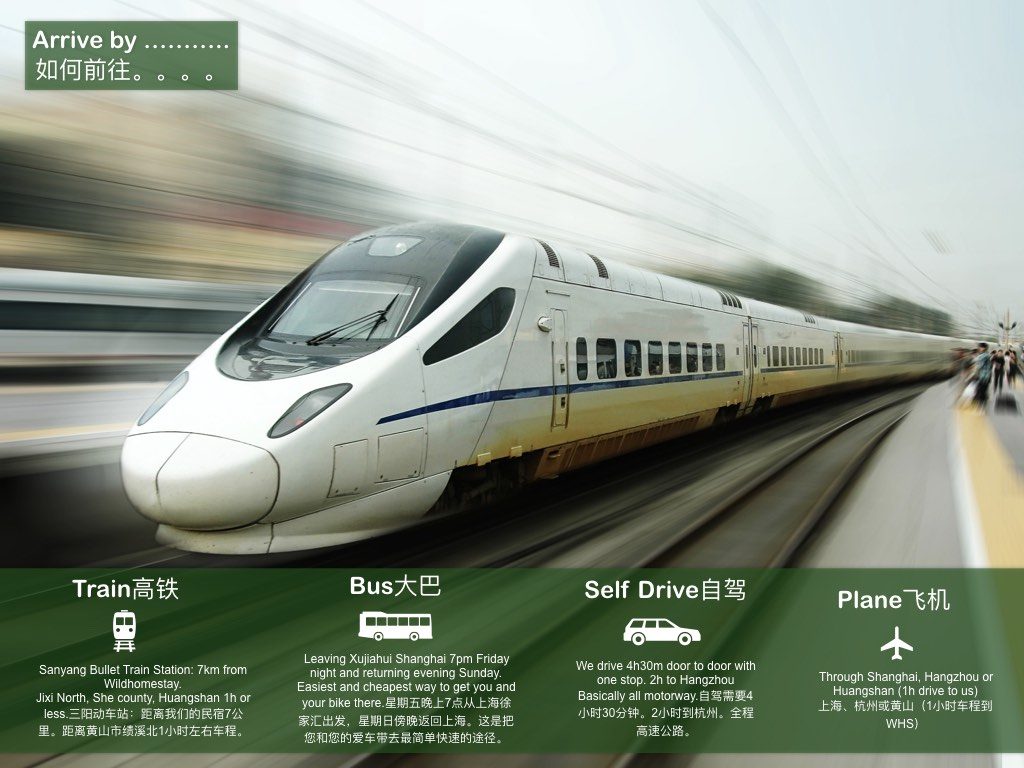 ---
Bus
Public Bus 
It's easy enough getting a public bus which leave Shanghai Nan Zhan, South train station long distance bus station, 666 Shi Long Road. Public buses from Hangzhou, Huangshan and other major cities are also available. These buses to She County and you need to ask them to drop you off at the Sanyang 三阳 Petrol Station. Walk down from there and grab a taxi 15 minutes to our place. Travel time from Shanghai is 4.20 hours with 1 pee stop.  
Follow these instructions   :
Please buy tickets yourself through www.piano.962168.com. Search for the destination She County (歙县) and book a ticket to there. Price is about 120 rmb person one way. They might charge you an extra 20-40 RMB per bike.  
1. Get yourself to bus station 20 minutes before departure. Go to this machine in main waiting hall.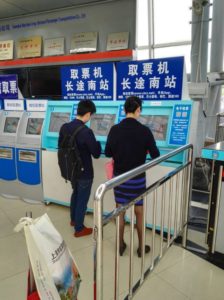 2. Press the mobile phone looking icon and type in number we give you and it will print your ticket.
3. Go through normally to counter 2 and get on your bus.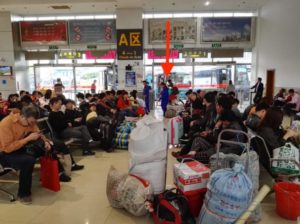 4. Get on the bus and show the driver this note in blue. 请告诉大巴司机,你要在三阳下车。
Dear Driver, please drop me off at She County, San Yang at the petrol station. I've never been there so please remember and please get me when we arrive. Thanks for your help.  司机先生你好,我要在三阳下车。请到站时提醒我下车,谢谢。
It's express way all the way. You go towards Hangzhou, west on the ring road and then on the G56 towards Huangshan.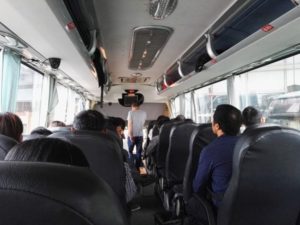 5. Rember to tell the driver to stop at the "Sanyang" petrol station on the highway.  This is important or he will not stop and you will get off 1h later in She County and have to get a taxi back from there. 

6. If you have gotten us to organize a driver they will meet you there. If not then walk down this little exit and stairs. Then turn left 30 m till you come to the bus, taxi stand and ask around for taxi to our place.  
---
Public Bus Back
We can book tickets 24 hours before your departure. Please ask in the cafe for details. Gets busy on weekends or holidays.
Make sure you give yourself 20 minutes to get from the village to the bus station.
We can organize a taxi to take you there (30 RMB or so). The driver will show you how to collect your tickets and the bus dude will take you to the bus. 
---
Taxi
Included are a few taxi drivers numbers:
洪水利 18255996123, 洪绍兴 18855959417, 洪业旺 13170095313
Taxi's are also available also outside the train station and by the bus station. Ask in the cafe to help you orgainze a taxi back to the train staiton or somewhere else.