[vc_row type="in_container" full_screen_row_position="middle" scene_position="center" text_color="dark" text_align="left" overlay_strength="0.3″ shape_divider_position="bottom"][vc_column column_padding="no-extra-padding" column_padding_position="all" background_color_opacity="1″ background_hover_color_opacity="1″ column_shadow="none" column_border_radius="none" width="1/1″ tablet_text_alignment="default" phone_text_alignment="default" column_border_width="none" column_border_style="solid"][vc_column_text]
Public Bus长途汽车
搭乘长途大前往非常便利,上海长途南站每天有5个班次,地址是上海市石龙路666号。从高速三阳出口下车后,15分钟的车程就能直达,4个多小时就能到目的地,中途会在服务区停靠一次。 It's easy enough getting a public bus to our place. They leave approx 5 times a day from Shanghai Nan Zhan, South train station long distance bus station,666 Shi Long Road. You will be dropped you off on the highway 15 minutes taxi ride to our place. Travel time is 4 hours with 1 pee stop.
请参考以下步骤提示  Follow these instructions  :
微信我们你的出发日期和时间。我们会网上帮你购票,需收取一些服务费。你只要在汽车站凭密码取票即可。或你可以自己网上购票:http://www.ctnz.net。票价约每人RMB110.00单程。如果携带自行车,则可能会需要20-40元不等的行李费用。如果携带自行车请提前告知,我们需要安排存放的位置。WeChat us your dates and travel times. We will buy your tickets online for you, but will need to charge some service fee and you pick them up at the bus station. Or you buy yourself at http://www.ctnz.net . Price is about 110 rmb person one way. Bikes sometimes extra 20-40 RMB and let us know if your bringing so we make sure room in baggage section. 
1. 请在发车前20分钟至汽车站自助取票机上取票。 Get yourself to bus station 20 minutes before departure. Go to this machine in main waiting hall. 

2. 点击取票按键,输入我们提供给你的密码,机器会直接打印车票。Press the mobile phone looking icon and type in number we give you and it will print your ticket.
3. 通常是在2号口上车,候车区内有咖啡蛋糕店及购买饮料的小店。Go through normally to counter 2 and get on your bus. There is a coffee cake shop in the waiting hall and place to buy drinks.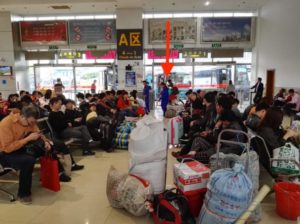 4.请告诉大巴司机,你要在三阳下车。 Get on the bus and show the driver this note in blue.
司机先生你好,我要在三阳下车。请到站时提醒我下车,谢谢你的帮助。Dear Driver, please drop me off at She County, San Yang at the petrol station. I've never been there so please remember and please show get me when we arrive. Thanks for your help.  
全程高速,往杭州方向,然后G56往黄山方向。It's express way all the way. You go towards Hangzhou and then on G56 towards Huangshan.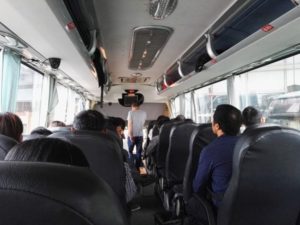 5. 请在这个加油站处下车。The driver will stop at the petrol station on the highway. 

6. 如果你有预定,我们会帮你联系好司机,他会在加油站等你。(单程费用为30-40元)或你需要按图上上所示,走下高架到马路对面的汽车站找出租车。If you have gotten us to organize a driver (30-40 rmb one way to village) they will meet you there. You get off and walk down this little exit and stairs. Then turn left 30 m to you come to the bus, taxi stand and ask around for taxi to our place. 
---
 返程长途大巴 Public Bus Back
我们可以出发24小时前为您预订车票,周末或节假日人较多,可能需要提前更多的时间预定We can book tickets 24 hours before your departure. Gets busy on weekends or holidays.

确保发车半小时前从村落出发。Make sure you give yourself 30 minutes to get from the village to the bus station.

我们也可以帮你预约出租车,司机会带你到取票的地点,长途客运工作人员会带你去乘坐大巴。We can organize a taxi to take you there (30 RMB or so). The driver will show you how to collect your tickets and the bus dude will take you to the bus.
[/vc_column_text][vc_text_separator title="Private Bus" i_icon_fontawesome="fa fa-bus" add_icon="true"][vc_column_text]
私人包车 Private Bus to Here & Away
我们可以为你联系预订从上海,杭州及黄山发车的8座至53座的长途包车,请联系我们了解更多详细信息。
We can organize private buses from 8 seats up to 53 seats from Shanghai, Hangzhou and Huangshan areas. Please contact us for more details.
[/vc_column_text][/vc_column][/vc_row][vc_row type="in_container" full_screen_row_position="middle" scene_position="center" text_color="dark" text_align="left" overlay_strength="0.3″ shape_divider_position="bottom"][vc_column column_padding="no-extra-padding" column_padding_position="all" background_color_opacity="1″ background_hover_color_opacity="1″ column_shadow="none" column_border_radius="none" width="1/1″ tablet_text_alignment="default" phone_text_alignment="default" column_border_width="none" column_border_style="solid"][/vc_column][/vc_row]