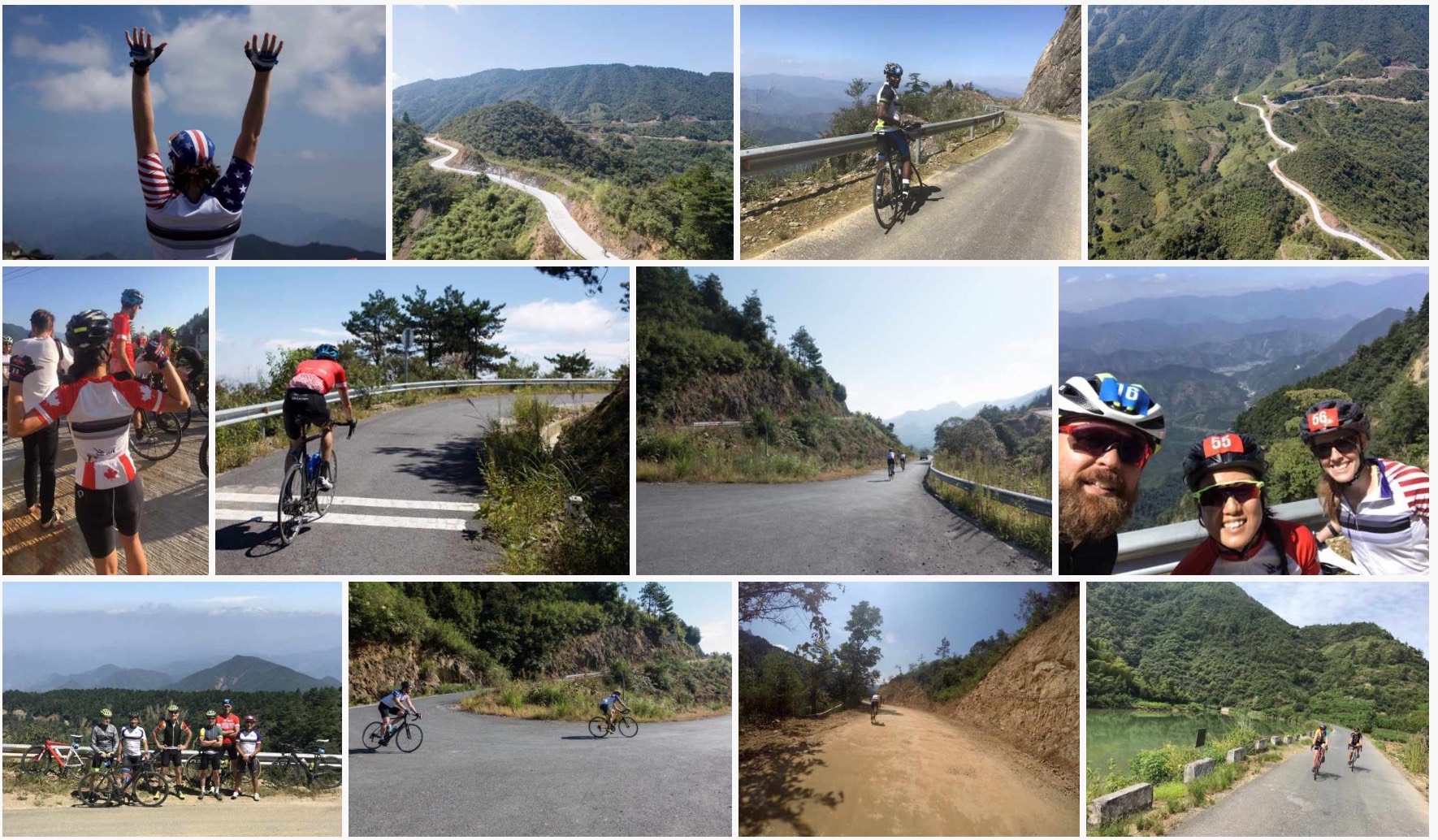 Wildhomestay was very pleased to host the 2017 Nearly World Championships by Serk. 野趣乡居有幸能主办Serk的2017年度业余骑行赛
Prerace 赛前准备
People came in from Beijing, Suzhou, Shanghai, Hanghzhou, Guangzhou and various other places around Asia to ride in the one-day "Amateur Challenge Fun Race". The race is based nearly around the Cycling World Championships with various fun and interesting twists. Riders age, weight and various other aspects are taken into account and a handicap is given to each rider staggering their start time. This means people can compete regardless of how much beer they drink or how old their legs are!
Most people arrived late Friday. We were very lucky with the weather, the stars were out and we ended up in two camps at Daxiyuan / Wildhomestay and Daming Mountain.  7am start!
选手来自北京,苏州,上海,广州及其它亚洲不同地区,共同集聚参加为期一天的业余挑战赛。这场比赛赛制接近自行车的世界锦标赛,又会更有趣和特别。 车手的年龄,体重和其他各个方面都被考虑在内,据此设定了每个选手不同的出发时间。 这意味着各种不同水平的骑手可以站在同一起跑线上进行公平的竞争。
大多选手周五晚间抵达。赛事期间的天气非常不错,可以看到满天的繁星。选手分别住在大溪源的野趣乡居和大明山顶民宿。周六早上7点比赛拉开序幕。
The Race  赛事
The men's race was about 80km with a 30+km hill climb ending in the top of Daming Shan along the south route. The women's race was about 60km ending up a 25+km hill climb along mostly the classic north accent to the top of Daming. Due to the caricature of some of the road surface and the long climb it ended up being a challenging race with quite a few people bonking on the way.
男子组赛程为80公里,其中包括了30公里以上的上坡骑行直至大明山顶。女子组赛程为60公里,包括25公里以上的上坡骑行。由于一些路面崎岖不平及长时间的攀登,最终成为一场具有挑战性的比赛,有很多人在过程中有不适。
Post Race  赛后颁奖典礼
Riders met at Wildhomestay for a post-race ceremony and bbq.赛后参赛选手在野趣乡居参加了颁奖典礼和BBQ活动。
Sunday 周日
A relaxed Sunday recovery ride was had by a few of us and people made their way back home by plane, train, bus and car. 周日一部分选手参与了一段恢复性的骑行。然后各自返程。
Links: Serk Cycling, Serk NWC Page  连接:Serk骑行,Serk 业余世锦赛页面
Many Thanks: To the Serk team for organizing the race. To Ms Zhu, Qing and Hong for supporting at Wildhomestay. To Henny, Daniel, Markus, Silke, Shannon, El, Luke and anyone else for their great photos.
感谢致辞:感谢Serk 团队对于赛事的组织,野趣乡居团队对于活动的工作支持。特别感谢Henny, Daniel, Markus, Silke, Shannon, El, Luke 及其各位给我们提供了精彩的照片。